4 notícias/artigos interessantes: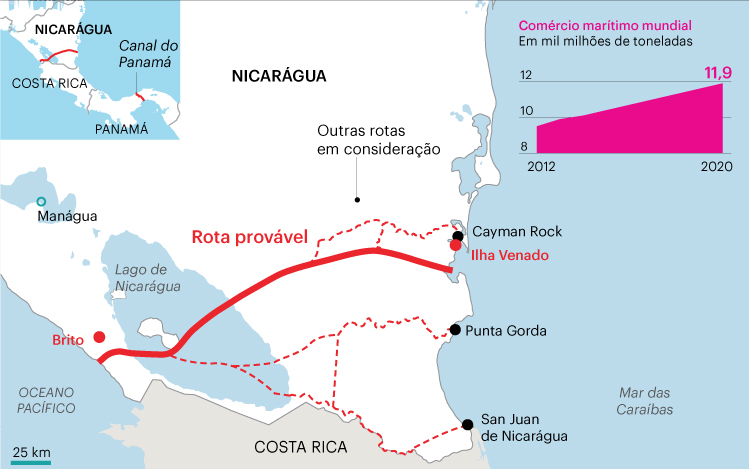 5 de outubro 2013
A man, a plan—and little else
NOT since the civil war of the 1980s have so many helicopters been clattering over remote parts of Nicaragua. But now the guys squinting down through the tree canopy are in suits: lawyers and business consultants from the United States, Australian engineers, British environmental auditors, even Chinese executives. Their per diems are being paid by Wang Jing, a Chinese businessman whose $40 billion quest is to build a canal from Nicaragua's Atlantic coast to its Pacific one. (…)
22 de novembro 2013
Nicaragua canal boosts China power
Since it first opened in 1914, the Panama Canal has provided the primary shipping conduit linking the Pacific and Atlantic Oceans through the Americas. And in that time, it has also represented US dominance in the region. Even after the canal passed entirely into Panama's control in 1999, the United States has maintained a strong military presence in the region, establishing its continuity as the region's key economic and political player.

All that is about to change. (…)
12 de janeiro 2014
Nicaragua to start construction on Canal, rivalling Panama's
(…)"The Nicaraguan government and HKND Group are pleased to confirm that canal construction work will begin as planned in December 2014," Ortega announced alongside Chinese tycoon Wang Jing, whose group has been given a concession to manage the future shipping channel for 50 years, with the possibility to renew the contract for another 50. (…)
21 de janeiro 2014
A Nicarágua vai ser serrada a meio para juntar o Pacífico ao Atlântico
(…)Maior ameaça ambiental no país.
Mas acresce outra importante polémica o impacto ambiental de tão monumental obra. A consultora britânica Environmental Resources Management (ERM) foi contratada pela construtora para averiguar as consequências de escavar um canal profundo através do Lago da Nicarágua, o maior lago de água doce da América Latina, e de talhar terras ancestrais indígenas até chegar ao mar do Caribe. E tentar compensar os danos. (…)
P.s. Este último artigo é um pouco plágio mas junta bastante informação.